When it's time to buy a new toothbrush, you'll probably look for one that is right for cleaning your teeth – it's called a "tooth" brush, after all. But have you ever considered what is right for your gums? You may not think about your gums as much when brushing, but your gums need just as much attention as your teeth do. Gums are the soft tissues that hold your teeth in place (along with the bone), which is why having healthy gums is important for the stability of your teeth. Giving your gums the proper care they need can impact your oral health overall.
Using a toothbrush that effectively cleans your gums as well as your teeth is a good step towards better oral health. Read on to learn about brushing your gums and finding the right toothbrush for your gums.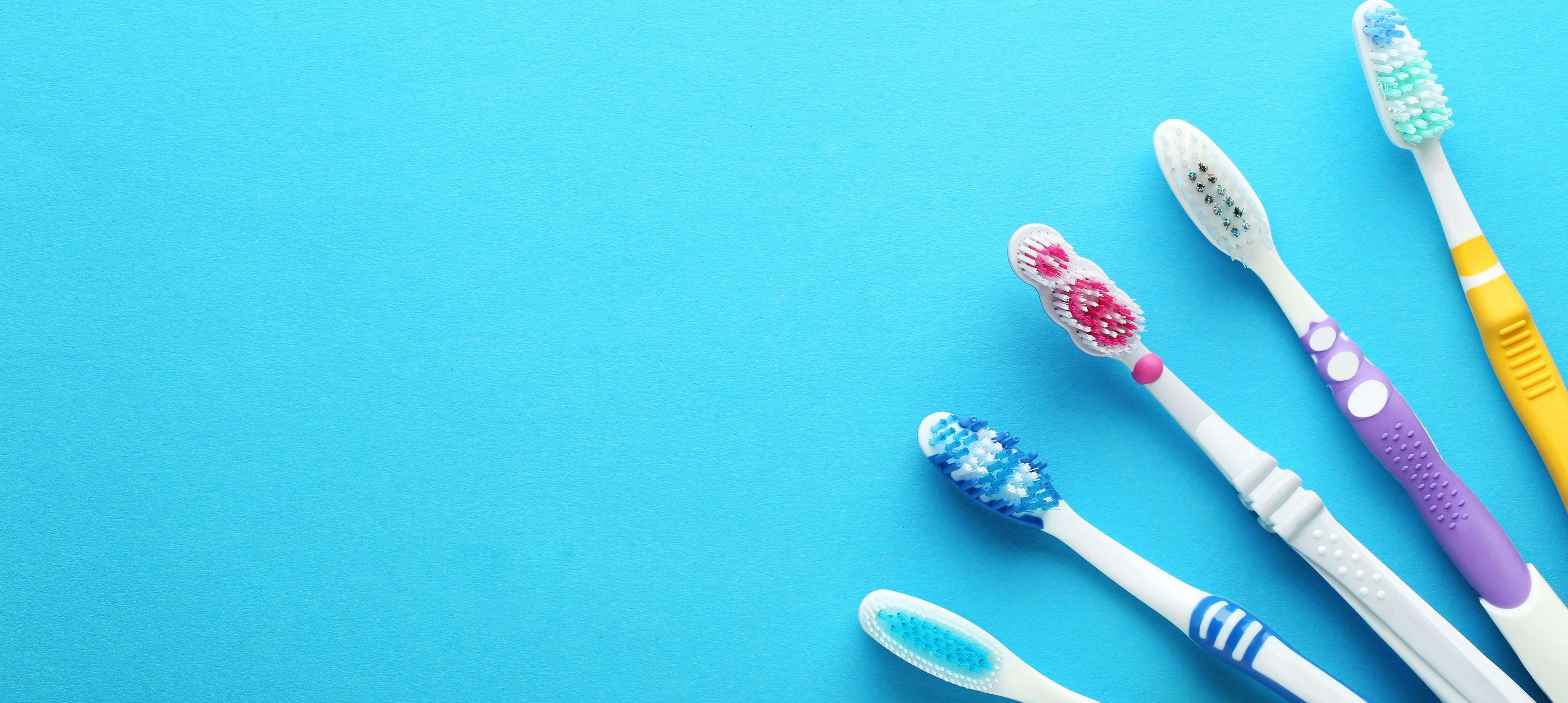 Why Is it Important to Care for Your Gums?
Daily brushing is essential for maintaining your oral health because it removes the plaque that forms in your mouth. Plaque is a thin film of bacteria that builds up on your teeth every day.1 The bacteria in plaque can produce acids that can harm the enamel on your teeth, which eventually can lead to cavities.1 When plaque is not removed from the teeth, it can harden into a substance called tartar.2 Tartar begins to build up above and below the gumline, making it harder to brush and clean in between the teeth.2 The collective buildup of plaque and tartar can eventually lead to gum disease.3
The first stage of gum disease is called gingivitis, which can be reversed with daily brushing and flossing.1,2 However, gingivitis that is left untreated can progress into a more serious form of gum disease called periodontitis.2 Unlike gingivitis, periodontitis is not reversible and can only be treated by a dentist.1,2 If periodontitis is not treated, it can cause sore, bleeding gums, painful chewing problems and even tooth loss.1
How to Brush Your Teeth and Gums
When you brush, you want to make sure that you're reaching all the right places. Remember to brush the outer surfaces, the inner surfaces and the chewing surfaces of your teeth (near your tongue) by angling your toothbrush.3 In order to brush the inner surfaces of your front teeth, tilt your brush toward your gumline and move it in short strokes that are no longer than an individual tooth.3 You'll also want to go over your gums as well to get at any plaque that is building up at the gum line. Place your toothbrush at a 45-degree angle to your gums as you brush your teeth.3 Don't forget to brush your teeth twice a day for two minutes at a time to maintain good oral health.3
It's also important to clean between your teeth once a day. Your toothbrush cannot reach deep enough between your teeth and under your gum line, so interdental cleaning is necessary for removing any leftover food particles and plaque.3 You can use dental floss, a pre-threaded flosser or a water flosser to get between your teeth.1
What Kind of Toothbrush Works Best for Your Gums?
Toothbrushes should be replaced every three to four months or sooner if the bristles are frayed, which means you'll have to look into getting a new toothbrush multiple times a year.4 When you're in the market for a new manual toothbrush, a good rule of thumb to remember is that soft-bristled brushes are the way to go.4 A toothbrush with firm or medium-strength bristles can actually cause damage to your gums and enamel.4 When testing the safety and effectiveness of toothbrushes, the American Dental Association looks for evidence that the bristles are free of sharp or jagged edges and will not fall out with normal use.5 It's also important to ensure that the size and shape of your toothbrush fits your mouth and allows you to reach all areas with ease.3
Manual vs. Electric Toothbrushes
You may have heard that electric (or powered) toothbrushes work better than manual ones. A study from the Oral Health Foundation shows that electric toothbrush users saw less gum recession and tooth decay over an extended period of use.6 Plus, people with conditions that limit hand motions or people who have dental appliances, like braces, may find it easier to use an electric toothbrush.1,5 However, the American Dental Association says that manual and electric brushes are both effective in removing plaque.5 Manual toothbrushes also cost less than electric toothbrushes, which is why some people prefer to use them. Whether you use a manual or electric toothbrush is ultimately a matter of preference – if you're following a good oral health regimen, your mouth will be in good shape.4,6
If you're looking for a manual toothbrush that has 8 benefits for healthy gums, try using the parodontax Complete Protection Toothbrush. This soft-bristled brush is gentle on your gums and enamel and effectively removes plaque. Even so, a manual toothbrush works best if you brush daily with a good fluoride toothpaste.4 You can help reverse the signs of early gum damage by brushing with parodontax Active Gum Repair Toothpaste.
Daily brushing with a toothbrush that's good for your gums can help you keep your mouth healthy. Explore the guide to healthy gums and find other helpful resources on the parodontax page.